Guerrera del Amor: Una Memoria (Paperback)

$14.99
Usually Ships in 1-5 Days
Description
---
Justo cuando Glennon Doyle comenzaba a sentir que lo tenia todo, tres ninos felices, un esposo carinoso y una carrera como escritora tan exitosa que su primer libro alcanzo la cima de la lista best seller del New York Times, su esposo le revelo su infidelidad y se vio forzada a darse cuenta de que nada es lo que parece ser. Una alcoholica y bulimica en recuperacion, Glennon reconocio que el fracaso es un lugar familiar. En medio de la crisis, supo aferrarse a lo que descubrio en recuperacion: que su mas profundo dolor siempre ha guardado dentro una invitacion hacia una vida mas abundante.Guerrera del amor es la historia de un matrimonio, pero es tambien la historia de la sanidad que es posible cuando nos negamos a conformarnos con algo bueno y nos enfrentamos al dolor y al amor. Esta memoria sorprendente revela como nuestros ideales de masculinidad y feminidad, pueden hacer que sea imposible para un hombre y una mujer conocerse realmente el uno al otro, y capta la belleza que se despliega cuando una pareja se compromete a liberarse de todo lo que ha aprendido, de manera que puedan finalmente, despues de trece anos de matrimonio, enamorarse.Guerrera del amor es un relato hermoso e inspirador de como hemos nacido para ser guerreros: fuertes, poderosos y valientes, capaces de enfrentar el dolor y reclamar el amor que esta disponible para nosotros. Es cronica de un viaje hermoso y brutal que se dirige a aquellos que anhelan relaciones mas profundas y verdaderas, y una vida mas abundante y autentica.
Shop Locally, Here, 24/7!
Storytime with Poppy Returns!
Thursday, January 18 at 10:45
We will be reading A Magical Winter and Open Very Carefully: A Book with Bite.
(Click Poppy's picture for more info on these books and event.)
20% off entire purchase for all attendees.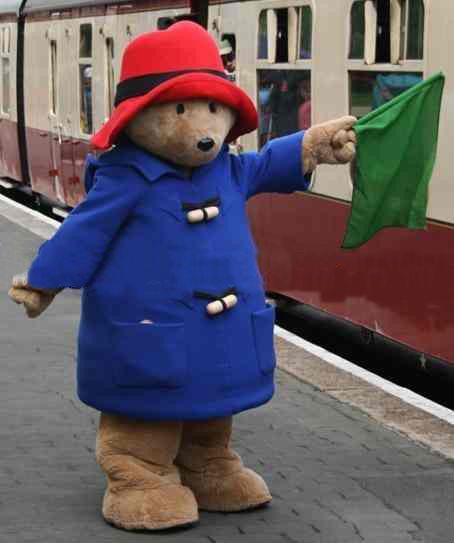 Paddington Bear visits Forever Books
Saturday, February 3 from 2-3:30.
During the downtown Magical Ice Carving Festival.
Fresh off his new movie, Paddington Bear visits Forever Books! There will be storytimes throughout and opportunities for children to be photographed with Paddington.