Mr. Rochester (Hardcover)

$27.00
Usually Ships in 1-5 Days
Staff Reviews
---
For those who truly love Charlotte Bronte's Jane Eyre, and longed for the back story of the dark and brooding Mr. Rochester, the wait is over. Shoemaker has written an enthralling tale of a sensitive, lonely young boy sent away by a cold-hearted father and older brother, who go on to betray him into adulthood. When he inherits his beloved Thornfield Hall, he returns to England, and meets his true love, Jane.
— From
Diana's Picks
Description
---
"Reader, she married me."
For one hundred seventy years, Edward Fairfax Rochester has stood as one of literature's most romantic, most complex, and most mysterious heroes. Sometimes haughty, sometimes tender-professing his love for Jane Eyre in one breath and denying it in the next-Mr. Rochester has for generations mesmerized, beguiled, and, yes, baffled fans of Charlotte Bronte's masterpiece. But his own story has never been told. Now, out of Sarah Shoemaker's rich and vibrant imagination, springs Edward: a vulnerable, brilliant, complicated man whom we first meet as a motherless, lonely little boy roaming the corridors and stable yards of Thornfield Hall. On the morning of Edward's eighth birthday, his father issues a decree: He is to be sent away to get an education, exiled from Thornfield and all he ever loved. As the determined young Edward begins his journey across England, making friends and enemies along the way, a series of eccentric mentors teach him more than he might have wished about the ways of the men-and women-who will someday be his peers. But much as he longs to be accepted-and to return to the home where he was born-his father has made clear that Thornfield is reserved for his older brother, Rowland, and that Edward's inheritance lies instead on the warm, languid shores of faraway Jamaica. That island, however, holds secrets of its own, and not long after his arrival, Edward finds himself entangled in morally dubious business dealings and a passionate, whirlwind love affair with the town's ravishing heiress, Antoinetta Bertha Mason. Eventually, after a devastating betrayal, Edward must return to England with his increasingly unstable wife to take over as master of Thornfield. And it is there, on a twilight ride, that he meets the stubborn, plain, young governess who will teach him how to love again. It is impossible not to watch enthralled as this tender-hearted child grows into the tormented hero Bronte immortalized-and as Jane surprises them both by stealing his heart. MR. ROCHESTER is a great, sweeping, classic coming-of-age story, and a stirring tale of adventure, romance, and deceit. Faithful in every particular to Bronte's original yet full of unexpected twists and riveting behind-the-scenes drama, this novel will completely, deliciously, and forever change how we read and remember
Jane Eyre
.
About the Author
---
Sarah Shoemaker is a former university librarian and currently lives in northern Michigan.
Shop Locally, Here, 24/7!
Storytime with Poppy Returns!
Thursday, January 18 at 10:45
We will be reading A Magical Winter and Open Very Carefully: A Book with Bite.
(Click Poppy's picture for more info on these books and event.)
20% off entire purchase for all attendees.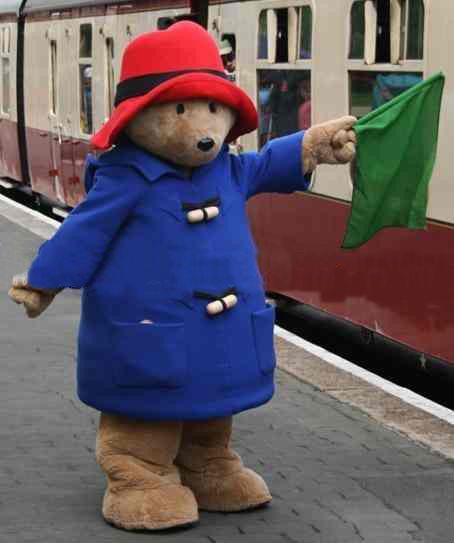 Paddington Bear visits Forever Books
Saturday, February 3 from 2-3:30.
During the downtown Magical Ice Carving Festival.
Fresh off his new movie, Paddington Bear visits Forever Books! There will be storytimes throughout and opportunities for children to be photographed with Paddington.