Arnie the Doughnut (Adventures of Arnie the Doughnut #1) (Prebound)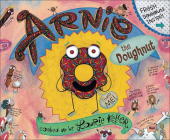 $19.80
Usually Ships in 1-5 Days
Description
---
A deliciously imaginative story about friendship from the author / illustrator of "The Scrambled States of America."
"Arnie was fascinated as he watched the customers stream into the bakery. One by one, doughnuts were chosen, placed in paper bags, and whisked away with their new owners. Some went by the dozen in giant boxes."
""Good-bye " Arnie yelled to each doughnut. "Have a good trip ""
""This is so exciting " Arnie beamed. "I wonder who will choose ME?""
At first glance, Arnie looks like an average doughnut round, cakey, with a hole in the middle, iced and sprinkled. He was made by one of the best bakeries in town, and admittedly his sprinkles are candy-colored. Still, a doughnut is just a doughnut, right?
WRONG Not if Arnie has anything to say about it. And, for a doughnut, he sure seems to have an awful lot to say. Can Arnie change the fate of all doughnuts or at least have a hand in his own future? Well, you'll just have to read this funny story and find out for yourself.
"Arnie, the Doughnut" is a 2004 Bank Street - Best Children's Book of the Year.
About the Author
---
Laurie Keller is the acclaimed author-illustrator of "Do Unto Otters, The Scrambled States of America," and "Open Wide: Tooth School Inside," among numerous others. She grew up in Muskegon, Michigan, and always loved to draw, paint and write stories. She earned a B.F.A. at Kendall College of Art and Design, then worked at Hallmark as a greeting card illustrator for seven-and-a-half years, until one night she got an idea for a children's book. She quit her job, moved to New York City, and soon had published her first book. She loved living in New York, but she has now returned to her home state, where she lives in a little cottage in the woods on the shore of Lake Michigan.
Shop Locally, Here, 24/7!
Forever Books is your one-stop shopping destination this holiday season: we provide complimentary gift wrapping, can arrange for shipping, and have booksellers with over 50 years of combined experience to help you chose the perfect gift.
Toys come and go, but stories last a lifetime.
Signed books make great gifts!
Two authors sign!
Saturday, December 14th 1 - 3 PM
Laurie Keller Signs her new book, Pluto Gets the Call
Laurie Keller is the bestselling author-illustrator of many books for kids, including Do Unto Otters, Potato Pants!,The Scrambled States of America;
and the Adventures of Arnie the Doughnut chapter book mystery series.
Click here for more info on these authors and event...
Amy Young returns to Forever Books to join her friend Laurie Keller in signing at this event!