Goodnight Moon Board Book (Board book)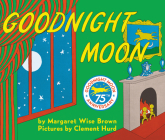 $8.99
Usually Ships in 1-5 Days
Description
---
In a great green room, tucked away in bed, is a little bunny. "Goodnight room, goodnight moon." And to all the familiar things in the softly lit room—to the picture of the three little bears sitting on chairs, to the clocks and his socks, to the mittens and the kittens, to everything one by one—the little bunny says goodnight.
In this classic of children's literature, beloved by generations of readers and listeners, the quiet poetry of the words and the gentle, lulling illustrations combine to make a perfect book for the end of the day.
This board book edition is the perfect size for little hands.
About the Author
---
Margaret Wise Brown, cherished for her unique ability to convey a child's experience and perspective of the world, transformed the landscape of children's literature with such beloved classics as Goodnight Moon and The Runaway Bunny. Other perennial favorites by Ms. Brown include My World; Christmas in the Barn; The Dead Bird; North, South, East, West; and Good Day, Good Night.
Clement Hurd (1908–1988) is best known for illustrating Goodnight Moon and The Runaway Bunny, the classic picture books by Margaret Wise Brown. He studied painting in Paris with Fernand Léger and others in the early 1930s. After his return to the United States in 1935, he began to work in children's books. He illustrated more than one hundred books, many of them with his wife, Edith Thacher Hurd, including the Johnny Lion books, The Day the Sun Danced, and The Merry Chase. A native of New York City, he lived most of his life in Vermont and California.
Clement Hurd (1908–1988) se graduó de Yale University. Estudió pintura en París en los años 1930 con Fernand Léger, entre otros. Allí fue donde desarrolló su estilo característico, compuesto de colores de fuerte contraste. Hurd estuvo casado con la escritora Edith Thacher Hurd, con quien también creó muchos libros que se convirtieron en favoritos de los niños.
Shop Locally, Here, 24/7!
Forever Books Turned 20 April 1st, 2019!
Thank you for making us your community book store!
"Best Place to Buy Books"!
We have a new email! Please reach us at foreverbooks@att.net!
25th Annual Luminary Festival
Friday, November 22 from dusk til 8:00 PM
Book Signing with Pamela Cameron, author of Sport: Ship Dog of the Great Lakes
Treats will be served.
Click here for more info on this author and event!
Sport: Ship Dog of the Great Lakes is Poppy-Approved!
In 1914 crew members of the lighthouse tender Hyacinth rescued a stray puppy from the Milwaukee River
and named him Sport. For the next twelve years, this charming Newfoundland-retriever mix lived the life of a ship dog.
In this beautifully illustrated children's book based on historical documents and photographs, readers share in Sport's
adventures while discovering the various ways lighthouse tender ships helped keep the lake safe for others.
A signed book plus an adorable plush make a great gift combo!
Saturday, November 30th
We will be open until 8 PM
Come celebrate Small Business Saturday in downtown St. Joseph. Shop small and support the local economy!
Forever Books will be giving away free surprise books (advance readers copies) with a purchase of $20 or more.
See it here --> Buy it here --> Keep us here!