Goodnight Moon Board Book (Board book)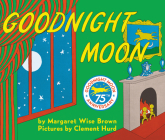 $8.99
Usually Ships in 1-5 Days
Description
---
In a great green room, tucked away in bed, is a little bunny. "Goodnight room, goodnight moon." And to all the familiar things in the softly lit room—to the picture of the three little bears sitting on chairs, to the clocks and his socks, to the mittens and the kittens, to everything one by one—the little bunny says goodnight.
In this classic of children's literature, beloved by generations of readers and listeners, the quiet poetry of the words and the gentle, lulling illustrations combine to make a perfect book for the end of the day.
This board book edition is the perfect size for little hands.
About the Author
---
Margaret Wise Brown, cherished for her unique ability to convey a child's experience and perspective of the world, transformed the landscape of children's literature with such beloved classics as Goodnight Moon and The Runaway Bunny. Other perennial favorites by Ms. Brown include My World; Christmas in the Barn; The Dead Bird; North, South, East, West; and Good Day, Good Night.
Clement Hurd (1908–1988) is best known for illustrating Goodnight Moon and The Runaway Bunny, the classic picture books by Margaret Wise Brown. He studied painting in Paris with Fernand Léger and others in the early 1930s. After his return to the United States in 1935, he began to work in children's books. He illustrated more than one hundred books, many of them with his wife, Edith Thacher Hurd, including the Johnny Lion books, The Day the Sun Danced, and The Merry Chase. A native of New York City, he lived most of his life in Vermont and California.
Clement Hurd (1908–1988) se graduó de Yale University. Estudió pintura en París en los años 1930 con Fernand Léger, entre otros. Allí fue donde desarrolló su estilo característico, compuesto de colores de fuerte contraste. Hurd estuvo casado con la escritora Edith Thacher Hurd, con quien también creó muchos libros que se convirtieron en favoritos de los niños.
Shop Locally, Here, 24/7!
We're happy to see you again in the store, largely thanks to your ongoing support of donations, book orders, and words of encourangement and love during the shut down❤️! There are some new conditions and store hours in place; please read over before you visit...
⭐️Masks must be worn by everyone over the age of three except for Poppy.

⭐️Staff will be wearing face shields.

⭐️ An acrylic counter shield is in place with hand sanitizer on counter. Charge card transactions are contact-free with no need to sign. As always, we take Apple Pay.
⭐️ We are still offering contact-free pick up in our entryway. Call the store for ordering or order online and choose in-store pick up. Please choose "pay at store" instead of credit card pay if you would like your purchase to go towards your Forever Friends rewards account. You can then pay at pick up or over phone.
⭐️Regrettably, our chairs have been removed except for one for persons with special needs. The children's play table and chairs have also been removed.

⭐️ At this time, our restroom is not open to the public.
⭐️The front of the store is opened up and fixtures have been moved. While the store is more open, allowing for better socially distant traffic flow, our inventory level is normal for this time of year. We have been stocking new releases all along, so come see what's new. If you don't see it on our shelves, shipments are arriving in 2-5 days, depending on the book. More non-book items are arriving daily.

⭐️ For now, our hours are: Monday-Saturday 10-6
Sunday 11-5
We look forward to seeing you all soon!
Search for eBooks