Goodnight Moon (Prebound)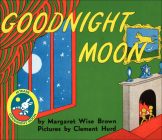 $19.80
Usually Ships in 1-5 Days
Description
---
In a great green room, tucked away in bed, is a little bunny. "Goodnight room, goodnight moon." And to all the familiar things in the softly lit room--to the picture of the three little bears sitting in chairs, to the clocks and his socks, to the mittens and the kittens, to everything one by one--he says goodnight.
In this classic of modern children's literature, beloved by generations of readers and listeners, the quiet poetry of the words and the gentle, lulling illustrations combine to make a perfect book for the end of the day.
Shop Locally, Here, 24/7!
Forever Books Turned 20 April 1st, 2019!
Thank you for making us your community book store!
We have a new email! Please reach us at foreverbooks@att.net!
Banned Books Week 2019
September 22-28
Censorship Leaves us in the Dark; Keep the Light On!
Tuesday, October 15 at 7:00 PM
Come hear our Top 25 of the season!
-Staff will present on their top 25 new books (hardcover and paperback) of the season
-Free book (publishers advance copy) for all attendees
-20% off entire purchase
Signed Copies available from Larry and Sandy Feldman...
Building Bridges Across the Racial Divide.
Building Bridges Across the Racial Divide offers a hopeful view of how well-constructed
diversity initiatives can combat entrenched racial prejudice and segregation in American life.
Signed Copies available of Killing Vincent: The Man, the Myth, and the Murder