Goodnight Moon (Prebound)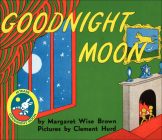 $19.80
Usually Ships in 1-5 Days
Description
---
In a great green room, tucked away in bed, is a little bunny. "Goodnight room, goodnight moon." And to all the familiar things in the softly lit room--to the picture of the three little bears sitting in chairs, to the clocks and his socks, to the mittens and the kittens, to everything one by one--he says goodnight.
In this classic of modern children's literature, beloved by generations of readers and listeners, the quiet poetry of the words and the gentle, lulling illustrations combine to make a perfect book for the end of the day.
Shop Locally, Here, 24/7!
Save the Date! Tuesday, February 25 at 7:00 PM
Winter Favorites- Hear the staff of Forever Books share reviews of their favorite new books for the season!
-20% off entire purchase that evening
-Free book (Advance Reader's Copy)
Reservations Required. Please call or email the store to save your seat!
The Heritage Museum and Cultural Center presents a special Exhibit Opening: Proclaiming Emancipation
Thursday, February 27 at 601 Main St., Saint Joseph
Free to the public ($5 suggested donation). Beer & Wine available for purchase.
5:00 - 6:45 PM Exhibition Preview and Cocktail Reception with the 102nd USCT Black History Group
7:00 - 8:30 PM Keynote: "Pioneers and Patriots: The Hidden Histories of Michigan's Black Founding Citizens" by Dr. Anna-lisa Cox
The long-hidden stories of America's black pioneers, the frontier they settled, and their fight for the heart of the nation.
Book Sales managed by Forever Books. Stop in, call or email the store to purchase your copy in advance.