When Summer Ends: A Novel (CD-Audio)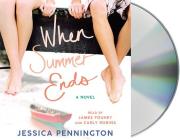 Description
---
Two teenagers discover how an unexpected turn of fate can bring new love to heal old wounds in Jessica Pennington's stunning, romantic YA audiobook When Summer Ends.

Aiden Emerson is an all-star pitcher and the all-around golden boy of Riverton. Or at least he was, before he quit the team the last day of junior year without any explanation. How could he tell people he's losing his vision at seventeen?

Straight-laced Olivia thought she had life all figured out. But when her dream internship falls apart, her estranged mother comes back into her life, and her long-time boyfriend ghosts her right before summer break, she's starting to think fate has a weird sense of humor.

Each struggling to find a new direction, Aiden and Olivia decide to live summer by chance. Every fleeting adventure and stolen kiss is as fragile as a coin flip in this heartfelt journey to love and self-discovery from the author of Love Songs & Other Lies.
About the Author
---
Jessica Pennington is no stranger to the combination of love and drama. She's a wedding planner, after all. A writer since the age of ten—when she sought publication for her poem about a tree—Jessica likes the challenge of finding the humor in a sad situation or highlighting the awkwardness in a romantic one. She lives in a Michigan beach town suspiciously similar to the one in her novel, with her husband Josh and their son, Rory. Love Songs & Other Lies is her debut novel.
Shop Locally, Here, 24/7!
We're happy to see you again in the store, largely thanks to your ongoing support of donations, book orders, and words of encourangement and love during the shut down❤️! There are some new conditions and store hours in place; please read over before you visit...
⭐️Masks must be worn by everyone over the age of three except for Poppy.

⭐️Staff will be wearing face shields.

⭐️ An acrylic counter shield is in place with hand sanitizer on counter. Charge card transactions are contact-free with no need to sign. As always, we take Apple Pay.
⭐️ We are still offering contact-free pick up in our entryway. Call the store for ordering or order online and choose in-store pick up. Please choose "pay at store" instead of credit card pay if you would like your purchase to go towards your Forever Friends rewards account. You can then pay at pick up or over phone.
⭐️Regrettably, our chairs have been removed except for one for persons with special needs. The children's play table and chairs have also been removed.

⭐️ At this time, our restroom is not open to the public.
⭐️The front of the store is opened up and fixtures have been moved. While the store is more open, allowing for better socially distant traffic flow, our inventory level is normal for this time of year. We have been stocking new releases all along, so come see what's new. If you don't see it on our shelves, shipments are arriving in 2-5 days, depending on the book. More non-book items are arriving daily.

⭐️ For now, our hours are: Monday-Saturday 10-6
Sunday 11-5
We look forward to seeing you all soon!
Search for eBooks