When Summer Ends: A Novel (CD-Audio)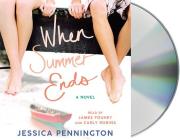 Description
---
Two teenagers discover how an unexpected turn of fate can bring new love to heal old wounds in Jessica Pennington's stunning, romantic YA audiobook When Summer Ends.
Aiden Emerson is an all-star pitcher and the all-around golden boy of Riverton. Or at least he was, before he quit the team the last day of junior year without any explanation. How could he tell people he's losing his vision at seventeen?
Straight-laced Olivia thought she had life all figured out. But when her dream internship falls apart, her estranged mother comes back into her life, and her long-time boyfriend ghosts her right before summer break, she's starting to think fate has a weird sense of humor.
Each struggling to find a new direction, Aiden and Olivia decide to live summer by chance. Every fleeting adventure and stolen kiss is as fragile as a coin flip in this heartfelt journey to love and self-discovery from the author of Love Songs & Other Lies.
About the Author
---
Jessica Pennington is no stranger to the combination of love and drama. She's a wedding planner, after all. A writer since the age of ten—when she sought publication for her poem about a tree—Jessica likes the challenge of finding the humor in a sad situation or highlighting the awkwardness in a romantic one. She lives in a Michigan beach town suspiciously similar to the one in her novel, with her husband Josh and their son, Rory. Love Songs & Other Lies is her debut novel.
Shop Locally, Here, 24/7!
Forever Books Turned 20 April 1st, 2019!
Thank you for making us your community book store!
We have a new email! Please reach us at foreverbooks@att.net!
Tuesday, October 15 at 7:00 PM
Come hear our Top 25 of the season!
-Staff will present on their top 25 new books (hardcover and paperback) of the season
-Free book (publishers advance copy) for all attendees
-20% off entire purchase
Signed Copies available from Larry and Sandy Feldman...
Building Bridges Across the Racial Divide.
Building Bridges Across the Racial Divide offers a hopeful view of how well-constructed
diversity initiatives can combat entrenched racial prejudice and segregation in American life.
Signed Copies available of Killing Vincent: The Man, the Myth, and the Murder