Redemption Road (Compact Disc)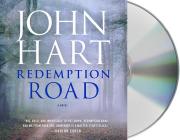 $39.99
Usually Ships in 1-5 Days
Description
---
The first and only author to win back-to-back Edgars for Best Novel. Every book a New York Times bestseller. After five years, John Hart is back.
Since his debut bestseller, The King of Lies, reviewers across the country have heaped praise on John Hart, comparing his writing to that of Pat Conroy, Cormac McCarthy and Scott Turow. Each novel has taken Hart higher on the New York Times Bestseller list as his masterful writing and assured evocation of place have won readers around the world and earned history's only consecutive Edgar Awards for Best Novel with Down River and The Last Child. Now, Hart delivers his most powerful story yet.
Imagine:
A boy with a gun waits for the man who killed his mother.
A troubled detective confronts her past in the aftermath of a brutal shooting.
After thirteen years in prison, a good cop walks free as deep in the forest, on the altar of an abandoned church, a body cools in pale linen...
This is a town on the brink.
This is Redemption Road.
Brimming with tension, secrets, and betrayal, Redemption Road proves again that John Hart is a master of the literary thriller.
About the Author
---
John Hart is the author of Redemption Road, and of four New York Times bestsellers, The King of Lies, Down River, The Last Child, and Iron House. The only author in history to win the best novel Edgar Award for consecutive novels, John has also won the Barry Award, the Southern Independent Bookseller's Award for Fiction, the Ian Fleming Steel Dagger Award and the North Carolina Award for Literature. His novels have been translated into thirty languages and can be found in over seventy countries. A former defense attorney and stockbroker, John spends his time in North Carolina and Virginia, where he writes full-time.
Shop Locally, Here, 24/7!
Top 20 and an Author with Karen Dionne
Thursday, May 17th at 7pm
Meet Karen Dionne, author of The Marsh King's Daughter
*Plus our top 20 book recommendations of the season
*20% off all purchases for attendees
*Free book (advance reader's copy)
Reservations requested. Please call (269) 982-1110 or email.
Click here for more info on this event and author.
Storytime with Poppy
Thursday, May 17th at 10:45 AM
20% entire purchase for all attendees
Join us (and Poppy) as we read some of our favorite new picture books and have some fun together.
Books are most appropriate for ages 2-5 but all ages welcome.