Love Warrior: A Memoir (Compact Disc)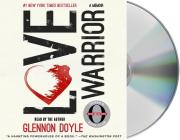 $29.99
Usually Ships in 1-5 Days
Description
---
The Newest Oprah Bookclub 2016 Selection
The highly anticipated new memoir by bestselling author Glennon Doyle Melton tells the story of her journey of self-discovery after the implosion of her marriage.
Just when Glennon Doyle Melton was beginning to feel she had it all figured out--three happy children, a doting spouse, and a writing career so successful that her first book catapulted to the top of the New York Times bestseller list--her husband revealed his infidelity and she was forced to realize that nothing was as it seemed. A recovering alcoholic and bulimic, Glennon found that rock bottom was a familiar place. In the midst of crisis, she knew to hold on to what she discovered in recovery: that her deepest pain has always held within it an invitation to a richer life.
Love Warrior is the story of one marriage, but it is also the story of the healing that is possible for any of us when we refuse to settle for good enough and begin to face pain and love head-on. This astonishing memoir reveals how our ideals of masculinity and femininity can make it impossible for a man and a woman to truly know one another--and it captures the beauty that unfolds when one couple commits to unlearning everything they've been taught so that they can finally, after thirteen years of marriage, commit to living true--true to themselves and to each other.
Love Warrior is a gorgeous and inspiring account of how we are born to be warriors: strong, powerful, and brave; able to confront the pain and claim the love that exists for us all. This chronicle of a beautiful, brutal journey speaks to anyone who yearns for deeper, truer relationships and a more abundant, authentic life.
About the Author
---
Glennon Doyle Melton is the author of the New York Times bestseller Carry On, Warrior and founder of the online community Momastery, where she reaches more than one million people each day. She is also the creator and president of Together Rising, a nonprofit organization that has raised close to five million dollars for families around the world through its Love Flash Mobs, which have revolutionized online giving. Glennon is a sought-after public speaker, and her work has been featured on The TODAY Show, The Talk, OWN, and NPR; in The New York Times, Ladies' Home Journal, Glamour, Family Circle, Parents Magazine, Newsweek, Woman's Day, and The Huffington Post; and in other television and print outlets. Glennon lives in Florida with her family.
Shop Locally, Here, 24/7!
Returning this July! "Where's Waldo in downtown St. Joseph?"
Wher
e's Waldo? All around St. Joseph in the month of July! Pick up your passport from Forever Books on or after July 1st and find Waldo in local stores for a chance to win Where's Waldo prizes.
A Waldo party and prize drawing will be held on Tuesday, July 31st from 6:30-7:00!
-Snack decorating, a fin
al Waldo hunt in the store, free kid's book (publisher's advanced copy), and prize drawing. Kids will be split into 2 age groups for activities.
Book Talk and Signing with Leah Weiss, author of If the Creek Don't Rise
Thursday, August 2 at 6:30 PM at Forever Books
Reservations Requested. Please call or email the store to save your seat! For more on this book and event click here...
This intimat
e insight into a fiercely proud, tenacious community unfolds through the voices of the forgotten folks of Baines Creek. With a colorful cast of characters that each contribute a new perspective, If the Creek Don't Rise is a debut novel bursting with heart, honesty, and homegrown grit.
"A strong, formidable novel for readers of William Faulkner and Cormac McCarthy." Library Journal
"Weiss' novel is a great suggestion for fans of the Big Stone Gap books, by Adriana Trigiani, and the Mitford series, by Jan Karon." Starred review, Booklist
Book Talk and Signing with Anna Clark, St. Joseph High School graduate and author of The Poisoned City: Flint's Water and the American Urban Tragedy
Thursday, August 2 from 6:00 - 7:30 PM at the St. Joseph Public Library.
Forever Books will be selling books prior to and at the event. Book releases July 10, pre-order this important work today!
Bring Home Memories of Southwest Michigan with these Local Interest and History Books!
These local books are only available by calling the store at 269-982-1110 or by email at foreverbook@qtm.net. Shipping services available.
View 366: A Year-long Visual Story of the St. Joseph Lighthouses is a journey into the changing days and seasons in the shadow of the century-old pair of iconic lighthouses situated in southwestern Michigan. This unique photographic story, chronicled by photographer and writer Laura Kraklau, documents 366 consecutive days of the St. Joseph lighthouses from August 26, 2011, through August 25, 2012.
$65.00
Greetings from St Joseph by Robert C. Myers is a pictorial history of the city dating back to 1679. This book's lively narrative spans the Colonial Era to the 21st century and includes chapters on St. Joseph's domestic architecture, downtown, industries, transportation, schools, churches, and cultural organizations. Filled with photographs, maps, and drawings. 8 ½" X 11", 323 p.p., softcover with bibliography and index.
$27.95
Greetings from Benton Harbor by Robert Myers. Founded on a ship canal in 1860, Benton Harbor became an economic and cultural center in southwest Michigan. The book spans Benton Harbor's history from the early 1800 to the 21st century. This volume of Historic Photobooks brings together a lively narrative and hundreds of vintage photographs from public institutions and private collections. 81/2 x 11", 390pps, softcover with bibliography and index.
$27.95
Historical Sketches of Berrien County; by Robert C. Myers features a collection of 152 colorful tales about the history of this southwest Michigan county. Learn about a priest's opposition to teddy bears, the four flags of Niles, Three Oaks' campaign against the world, and much more. 7 X 8-1/2", softcover, 275 p.p., bibliography, index, photos, and illustrations.
$23.95
Locomotives Along the Lakeshore: Railroads of Berrien County, Michigan by curator Robert Myers, relates the history of each railroad line that operated in Berrien County. The 174-page book includes hundreds of photographs of railroad locomotives, depots and train crews, plus endnotes, a bibliography and index. Photographs in the book, most of which have never been published before, come from the History Center's own collections and those of area museums and libraries, as well as many private collections.
$24.95
THE GREAT AMERICAN READ is an eight-part series on PBS that explores and celebrates the power of reading, told through the prism of America's 100 best-loved novels (as chosen in a national survey). It investigates how and why writers create their fictional worlds, how we as readers are affected by these stories, and what these 100 different books have to say about our diverse nation and our shared human experience. There will be a nationwide vote to choose America's most beloved book. Find the 100 book selections here and read and place your vote by clicking on image to the left!