It's Always the Husband (Compact Disc)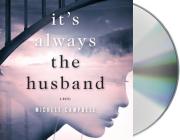 $39.99
Usually Ships in 1-5 Days
Description
---
Kate, Aubrey, and Jenny first met as college roommates and soon became inseparable, despite being as different as three women can be. Kate was beautiful, wild, wealthy, and damaged. Aubrey, on financial aid, came from a broken home, and wanted more than anything to distance herself from her past. And Jenny was a striver--brilliant, ambitious, and determined to succeed. As an unlikely friendship formed, the three of them swore they would always be there for each other.
But twenty years later, one of them is standing at the edge of a bridge, and someone is urging her to jump.
How did it come to this?
Kate married the gorgeous party boy, Aubrey married up, and Jenny married the boy next door. But how can these three women love and hate each other? Can feelings this strong lead to murder? When one of them dies under mysterious circumstances, will everyone assume, as is often the case, that it's always the husband?
A suspenseful, absorbing audiobook that examines the complexities of friendship, It's Always the Husband will keep readers guessing right up to its shocking conclusion.
About the Author
---
A graduate of Harvard University and Stanford Law School, MICHELE CAMPBELL worked at a prestigious Manhattan law firm before spending eight years fighting crime as a federal prosecutor in New York City.
Shop Locally, Here, 24/7!
No foolin'!
It's Forever Books' 19th birthday April 1st!
A great, big "thank you" to all of our loyal customers who keep us here.
Meet Tiya Miles as she speaks
and signs The Dawn of Detroit
Thursday, April 19 at 6:30 PM
Reservations Requested. Call the store or email us to save your seat.
For more info on this event, click here!
Book Launch for St. Joseph author Jessica Pennington's new YA novel, Love Songs & Other Lies
Friday, April 27th, 6:30 PM
For more info on this event, click here!