Bunny Slopes (Hardcover)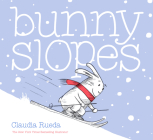 $15.99
Usually Ships in 1-5 Days
Description
---
Time to tackle the bunny slope Shake to help Bunny make it snow, tilt to help Bunny ski down the slope, and turn to help Bunny escape a cliff in his path. Is there any obstacle Bunny can't conquer? Bringing grins and guffaws with each turn of the page, readers will find Claudia Rueda's innovative bookmaking as entertaining as the twists and turns of a ski slope and as satisfying as a cozy cup of hot cocoa.
About the Author
---
Claudia Rueda is the award-winning, New York Times bestselling author and/or illustrator of more than 30 books for children, available in more than 10 languages. She lives in Bogota, Colombia, where she curls up under a red blanket to drink hot cocoa at the end of a long day illustrating energetic bunnies.
Shop Locally, Here, 24/7!
No foolin'!
It's Forever Books' 19th birthday April 1st!
A great, big "thank you" to all of our loyal customers who keep us here.
Meet Tiya Miles as she speaks
and signs The Dawn of Detroit
Thursday, April 19 at 6:30 PM
Reservations Requested. Call the store or email us to save your seat.
For more info on this event, click here!
Book Launch for St. Joseph author Jessica Pennington's new YA novel, Love Songs & Other Lies
Friday, April 27th, 6:30 PM
For more info on this event, click here!