Book Signing with Wade Rouse, writing as Viola Shipman, author of "The Hope Chest"
Thursday, June 22 at 7:00 PM
Reservations Requested. Please call (269) 982-1110 or email us to save your seat.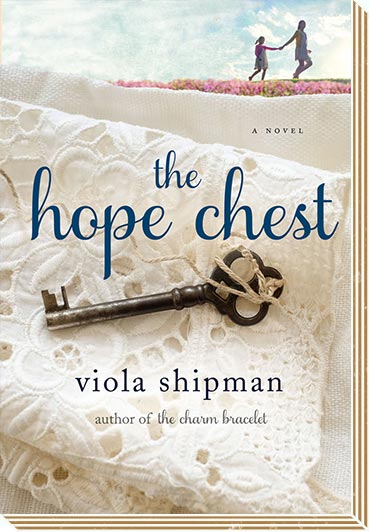 The Discovery Of One Woman's Heirloom Hope Chest Unveils Precious Memories And Helps Three People Who Have Each Lost A Part Of Themselves Find Joy Once Again.
Ever since she was diagnosed with ALS, fiercely independent Mattie doesn't feel like herself. She can't navigate her beloved home, she can't go for a boat ride, and she can barely even feed herself. Her devoted husband, Don, doesn't want to imagine life without his wife of nearly fifty years, but Mattie isn't likely to make it past their anniversary.
But when Rose, Mattie's new caretaker, and her young daughter, Jeri, enter the couple's life, happiness and the possibility for new memories return. Together they form a family, and Mattie is finally able to pass on her memories from the hope chest she received from her mother.
With each item—including a favorite doll, family dishes, an embroidered apron, and an antique Christmas ornament—the hope chest connects Mattie, Don and Rose to each other and helps them find hope again in the face of overwhelming life challenges.
A beautiful story about the unconditional love and support of family, The Hope Chest will remind you that hope can be found where and when you least expect it.
VIOLA SHIPMAN is a pen name for Wade Rouse, a popular, award-winning memoirist. Rouse chose his grandmother's name to pay tribute to the woman whose heirlooms, life, lessons and love inspire his fiction. To date, The Charm Bracelet and The Hope Chest have been translated into over a dozen languages and become international bestsellers. The Recipe Box will publish in 2018. Rouse writes regularly for People, Good Housekeeping and Coastal Living, among other places, and is a contributor to All Things Considered. He divides his time between the resort towns of Saugatuck-Douglas, Michigan, and Palm Springs, California.
Event date:
Thursday, June 22, 2017 - 7:00pm

$25.99
ISBN: 9781250105073
Availability: Usually Ships in 1-5 Days
Published: Thomas Dunne Books - March 21st, 2017
---
Shop Locally, Here, 24/7!
Top 20 and an Author with Karen Dionne
Thursday, May 17th at 7pm
Meet Karen Dionne, author of The Marsh King's Daughter
*Plus our top 20 book recommendations of the season
*20% off all purchases for attendees
*Free book (advance reader's copy)
Reservations requested. Please call (269) 982-1110 or email.
Click here for more info on this event and author.
Storytime with Poppy
Thursday, May 17th at 10:45 AM
20% entire purchase for all attendees
Join us (and Poppy) as we read some of our favorite new picture books and have some fun together.
Books are most appropriate for ages 2-5 but all ages welcome.