Fall Top 20 & an Author with Devin Murphy
Monday, October 16th at 7pm
20% off all purchases + free book (publisher ARC) + staff reviews favorites!
Reservations Required, please call 269-982-1110 or email to save your seat!
Meet Devin Murphy, author of The Boat Runner
In the traditio
n of All The Light We Cannot See and The Nightingale, comes an incandescent debut novel about a young Dutch man who comes of age during the perilousness of World War II. Beginning in the summer of 1939, fourteen-year-old Jacob Koopman and his older brother, Edwin, enjoy lives of prosperity and quiet contentment. Many of the residents in their small Dutch town have some connection to the Koopman lightbulb factory, and the locals hold the family in high esteem.
On days when they aren't playing with friends, Jacob and Edwin help their Uncle Martin on his fishing boat in the North Sea, where German ships have become a common sight. But conflict still seems unthinkable, even as the boys' father naively sends his sons to a Hitler Youth Camp in an effort to secure German business for the factory.
When war breaks out, Jacob's world is thrown into chaos. The Boat Runner follows Jacob over the course of four years, through the forests of France, the stormy beaches of England, and deep within the secret missions of the German Navy, where he is confronted with the moral dilemma that will change his life—and his life's mission—forever.
Epic in scope and featuring a thrilling narrative with precise, elegant language, The Boat Runner tells the little-known story of the young Dutch boys who were thrown into the Nazi campaign, as well as the brave boatmen who risked everything to give Jewish refugees safe passage to land abroad. Through one boy's harrowing tale of personal redemption, here is a novel about the power of people's stories and voices to shine light through our darkest days, until only love prevails.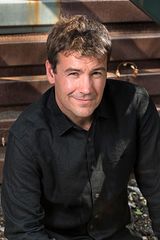 Devin Murphy is an assistant professor of creative writing at Bradley University. His fiction has appeared in more than sixty publications and anthologies, including the Missouri Review, Glimmer Train, and Chicago Tribune. He lives with his wife and children in Chicago.
Event date:
Monday, October 16, 2017 - 7:00pm
Shop Locally, Here, 24/7!
Top 20 and an Author with Karen Dionne
Thursday, May 17th at 7pm
Meet Karen Dionne, author of The Marsh King's Daughter
*Plus our top 20 book recommendations of the season
*20% off all purchases for attendees
*Free book (advance reader's copy)
Reservations requested. Please call (269) 982-1110 or email.
Click here for more info on this event and author.
Storytime with Poppy
Thursday, May 17th at 10:45 AM
20% entire purchase for all attendees
Join us (and Poppy) as we read some of our favorite new picture books and have some fun together.
Books are most appropriate for ages 2-5 but all ages welcome.